Welcome to
Office For Lay Collaboration In Ministry
The lay apostolate, individual or collective, must be set in its true place within the apostolate of the whole Church. Union with those whom the Holy Spirit has appointed to rule the Church of God (cf.acts 20:28) is an essential element of the Christian Apostolate. Not less necessary is the collaboration among the different undertakings of the apostolate; it is the hierarchy's place to put proper system into this collaboration. (AA,23) -Vatican II Decree on the Laity.
Spiritual Director's Message
The month of October in the Church has a focus on "Mission", and "Mission Sunday". The Church is missionary by nature, and she invites everyone to be engaged in God's mission.
During the season of Lent we reflected on the wounds of Jesus. During the Easter season we can continue that focus, this time on the wounds of the Risen Jesus. As the Holy Father reminds us on the second Sunday of Easter which Saint John Paul II wished to dedicate to...
Even if you have never felt loved or struggled to love, being loved is an ever-present reality and a never-to-be broken promise that flows directly from the heart of God.
You are loved, and as Saint Augustine said, "God loves each one of us as if there were only one of us to love." Think about that! You are loved exclusively and completely by God. You don't have to compete for or earn God's love or be anybody different from who you are, because God is in love with you.
–from the book Healing Promises: The Essential Guide to the Sacred Heart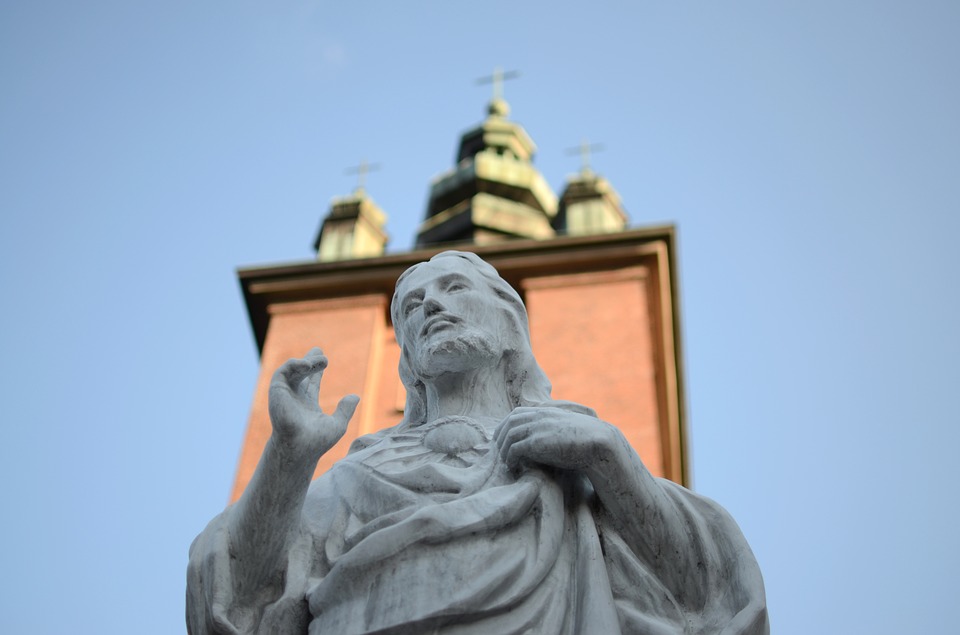 Jesus is the answer to all our questions, no matter what our age or state of life. He offers solace to those aching for relief. He offers truth to young people who are searching for deeper meaning and security. He restores the dignity and moral center of those who are looking for life and see only death.
To each of these weary souls, Jesus says: "Come to me, all you that are weary and are carrying heavy burdens and I will give you rest…learn from me; for I am gentle and humble in heart, and you will find rest for your souls" (Matthew 11:28–29).
–from the book Healing Promises: The Essential Guide to the Sacred Heart
Saint Thomas More
Saint of the Day for June 22
(February 7, 1478 –
July 6, 1535

)
Saint Thomas More's Story
His belief that no lay ruler has jurisdiction over the Church of Christ cost Thomas More his life.
Beheaded on Tower Hill, London, on July 6, 1535, More steadfastly refused to approve King Henry VIII's divorce and remarriage and establishment of the Church of England.
Described as "a man for all seasons," More was a literary scholar, eminent lawyer, gentleman, father of four children, and chancellor of England. An intensely spiritual man, he would not support the king's divorce from Catherine of Aragon in order to marry Anne Boleyn. Nor would he acknowledge Henry as supreme head of the Church in England, breaking with Rome, and denying the pope as head.
More was committed to the Tower of London to await trial for treason: not swearing to the Act of Succession and the Oath of Supremacy. Upon conviction, More declared he had all the councils of Christendom and not just the council of one realm to support him in the decision of his conscience.
---
Reflection
Four hundred years later in 1935, Thomas More was canonized a saint of God. Few saints are more relevant to our time. In the year 2000, in fact, Pope John Paul II named him patron of political leaders. The supreme diplomat and counselor, he did not compromise his own moral values in order to please the king, knowing that true allegiance to authority is not blind acceptance of everything that authority wants. King Henry himself realized this and tried desperately to win his chancellor to his side because he knew More was a man whose approval counted, a man whose personal integrity no one questioned. But when Thomas More resigned as chancellor, unable to approve the two matters that meant most to Henry, the king had to get rid of him.
---
Saint Thomas More is the Patron Saint of:
Attorneys
Civil Servants
Court Clerks
Lawyers
Politicians
Public Servants